We have heard a lot of lies since the Sestak interview in which he noted the White House offer to eliminate him from the Specter race, including those pertaining to the offer. The Clinton one time meeting was never plausible nor is the idea that Emanuel was in this alone. Based upon what is known it is difficult to believe Clinton had anything to do with it.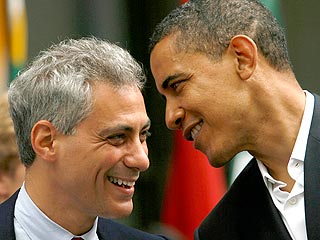 Time
Back in May Obama assured America, "nothing improper happened'. Where did he get that information? Mr 'always tell the truth' Sestak may not have wanted to comment on the job offer after winning.

Even after Issa(R) demanded a federal investigation into a possible bribe he was denied.

Sestak is no longer riding the high Obama wave. Even though Obama has offered to assist in his campaign, like many others, Sestak is not accepting. "I really want, my No. 1 choice, and [the White House] gave me a wish list, is Michelle Obama."

Ten days ago Rasmussen had Sestak 7 points behind Toomey. Sestak's post primary bounce died and he has since suffered the scandal consequences. Maybe that is another reason for him to select Michelle.

.

Share